The party is under attack! Orcs, or goblins, or hobgoblins, or skeletons, or zombies, or any other permutation of horde-style enemies are surrounding the party, or defending their lair, or…you get the point.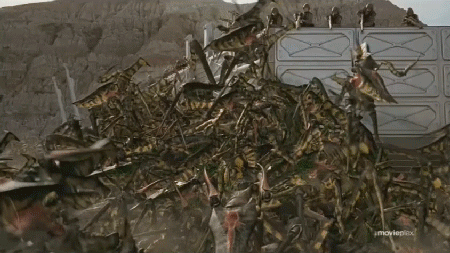 These encounters pop up many times in most campaigns, sometimes as major set-piece battles, sometimes as random encounters, or even just to give the players a dose of combat to break up some long periods of roleplaying and exploration. While these battles can be fun, they run the risk of being bland in terms of the enemy types players face, particularly if the Dungeon Master or GM only has access to a basic bestiary like the Monster Manual and not advanced books with more diverse enemy types. Perhaps even those advanced books don't have enough differentiated enemy types. For example, while there are eight different flavors of Orc across three different rulebooks, there are only five types of Hobgoblins you can throw at your players, and two of them (Warlord and Captain), are essentially the same, with the Warlord just having three times as many hit points and a higher AC. Even worse, there are only two types of Goblins! Such narrow options can not only bore your players, it also can rob them of that element of uncertainty when facing interesting monsters; they will get so accustomed to what these creatures' abilities are that it can lead to even more boring encounters since they know exactly what to do. Today's post will be an overview on how to homebrew some interesting and simple variations on enemies to bring more variety to your encounters and keep your players on your toes.
The first and simplest way to do modify enemies is to change up their equipment. In the D&D basic rules, an Orc wears hide armor and carries a greatsword and javelin. In my homebrew game, Orcs are more akin to Lord of the Rings Orcs than to D&D Orcs, and I use LOTR wargame miniatures on the tabletop. Those orcs wear mostly chain and half-plate armor, and are armed with a great variety of weapons: swords and shields, two-handed axes, spears, and bows. Since I try to adhere to the principle of WYSIWYG (What You See Is What You Get, essentially meaning, for example, if a miniature has a shield and half-plate, his stats will reflect that added AC; I want my players to be able to look at the mins on the battlefield and make their decisions off of the information they glean from it, as their characters would be able to), when I throw 40 Orcs on the battlefield for  a major set-piece battle, most of those Orcs have different stats based on the equipment they have. Already, we have broken our basic Orc into at least four different varieties. It requires a bit more bookkeeping since you need to have the stats for the different weapons at hand, but it does make things more interesting for both you and your players. If you are going to change up weapons and equipment, however, I would highly recommend having appropriate miniatures so that the players (and you) can easily tell the difference. It is way easier to glance over and see that a mini has a shield and add +2 to its AC rather than trying to think, "Hmm, wait, was that the guy with a shield or was it this one over here?"
The second way to add some variety is to add some enemies that I will refer to as Specialists. These are enemies that are tougher than your average minion, but not yet tough enough to be something like a leader or miniboss. In D&D terms, they would probably sit around CR1, possibly 2 depending on the level of your party and the encounter, and in something like Star Wars RPG or Gensys they would be Rivals as opposed to Minions, or even just Minions with a higher Wound Threshold. Specialists are simple twists on basic enemies, having a single special ability or schtick that sets them apart and gives them a more defined purpose on the battlefield. In a science fiction or modern RPG, an easy Specialist could be a machinegunner; increase the hit points or armor to make him more survivable and give him an appropriate weapon that can spit out a high volume of shots or target multiple enemies. The key, though, is to give them a special ability. For our machinegunner, we can give him an ability that if he targets an enemy with his weapon on his turn, that enemy gets some sort of debuff as they go scrambling for cover. In Star Wars, this can be represented by adding a black die to that character's next check, and in a D20 system it could be a -2 to their next check or even Disadvantage. In any system, you can have a Spotter, who uses their action to grant a buff to all allies who target a specific enemy; in D&D you could even make this an enemy cleric who is able to cast Guiding Bolt every turn, though that is the only spell they know. A good option is to create some sort of defensive specialist, who buffs their allies' Armor Class or Defense, or even can provide some sort of cover for them to hide behind, making it harder to kill the enemies. Feel free to invent new spells and abilities, such as a Concentration spell that enables a Wizard to add +1 to the AC of three different creatures other than itself, for example.
The important thing to remember when creating Specialists is to create them with a very specific role in mind, and make them fit solely within that role. A damage-dealing Specialist like a machinegunner should be attacking every turn and doing nothing else; perhaps even make them a turret character, who can't attack or gets disadvantages to attacking when they move. A support Specialist like our spotter or a defensive Specialist like our AC-buffing Wizard should not be able to do much damage, and should rarely be attacking anyways. Perhaps they only attack in self defense, when an enemy is directly threatening them. But again, these are supposed to be only one step up from your average enemy, not a full miniboss.
The third way to add variety to your combat encounters with many similar enemies is to create new abilities to add to some or all of your enemies. This is the most complex and requires the most work on the part of the DM/GM, but can really spice up encounters. I recommend, in particular, creating abilities which synergize with each other. You can even combine the above Specialists with these new abilities and create some really interesting combos which force the players to sit up and pay attention. Let's take the Spotter from above, for example, make him an Orc, and let's say his ability is to fire a flaming marking arrow which adds +5 to all attack rolls against the target until his next turn. Now let's give a third of our Orcs compound bows (count as longbows, but longbows don't seem very Orcish), changing up the weaponry they're carrying. Finally, let's give all of our bow-wielding Orcs a new ability: when firing at an enemy marked by the Spotter, add an extra D4 piercing damage to their damage if they hit. Notice that the extra damage only applies to bow-wielding Orcs, not all Orcs, so we are further differentiating our enemies and how they interact with some of the special abilities.
If you want an ability to apply to all of your enemies, ensure that it will change how the players approach the encounter in a fundamental way once you reveal it. Following the Orc example, half-Orcs get an ability where, once per long rest, when they drop to 0 HP, they can drop to 1 instead. This is obviously supposed to be because of their Orcish heritage, but Orcs have no such ability. Why not give this ability to Orcs as well, to surprise your players the next time they face a group of Orcs and think they know exactly how things will go. Maybe make it even nastier; when they pop back up with 1 HP, they go into a bloodthirsty rage where they get advantage on all attacks until they are killed.
By doing a little prep work and having the appropriate miniatures or representations, you can take what might be a tedious encounter and turn it into one your players will remember, and keep them on their toes for future combats you might run. Some players love to read the Monster Manual or other such books to try to brush up on enemies they will face, and this is a good way to discourage that sort of metagaming, even if it is mostly harmless. It can bring a sense of mystery and slight trepidation to each combat encounter, making your players guess, "what is going to be going on with these enemies today?"
If you want to see more content, you can follow me on Instagram and check out my stuff on the DM's Guild.
As always, good luck and happy gaming!